Customer Satisfaction Surveys
Corvus recently undertook customer satisfaction surveys which have had fantastic results, please see below…
Corvus has added a Volkswagen Caddy van to our response service, giving increased reliability etc…
#TeamCorvus is proud to support the Penmaenmawr Christmas Fayre annually with our security services for build and break and during the fayre free of charge in support of this great not for profit local event.
Community events are really important and following looking at a number of events we work with we decided to sponsor and support this local area event with our services.  Corvus has committed to three years support being 2017, 2018 and 2019.
#TeamCorvus is proud to sponsor former Corvus team member and Royal Marine Samuel Deen and Daniela Kroulikova in climbing of 7 summits to raise awareness for PTSD, combat stress and mental health for those serving in the armed forces.
Everest 8850m (2021)
Denali 6194m (2020)
Kilimanjaro (2019)
Aconcagua 6962m (Completed)
Mount Elbrus 5642m (Completed)
Mount Vinson 4892m (2020)
Mount Kosciuszko 2228m (2021)
Supporting the main charities  ExFor+   Rock2Reckovery  and in raising awareness…
Corvus is proud to suppor this having many ex forces within #TeamCorvus, if even one person can be reached out to a life could be saved…
Our MCU has recently undergone a full refit and design to fit the needs of the operation, we have a few final tweaks after our first event season with the MCU at our disposal.
We are also adding a "Cost Price" staff vending machine for snacks that we usually get from nearby garages and shops at high prices, hoping to save our team some money 🙂 (Vending and welfare at CORVUS is never for profit any money left over is put back into the next offering)
pic. The MCU this year at Houghton Festival
#TeamCorvus recently delivered Crowd Management for the Cambrian Rally in Llandudno for this years 2019 event, we are proud to support North Wales Car Club for another fantastic event….
To find out how we can assist your event please get in touch with our team now.. 01248-800-103
Details of the Cambrian Rally below…
Welcome to the Visit Conwy Cambrian Rally, one of the oldest and most establised rallies in the UK
The 64th Cambrian Rally, is a new and first round of the MSA British Rally Championship. It's also part of the Jordon Surfacing BTRDA Rally Series, Pirelli Welsh Rally Championship and the ANWCC Championship and is set in the challenging welsh forests. These forests of North Wales are synonymous with rallying especially the Lombard RAC (now the WRGB) back in the late eighties, with legendary drivers such as Roger Clark, Colin McRae, and Richard Burns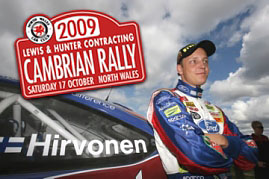 The Cambrian has been enjoyed by a number of top WRC drivers. In 2009 Mikko Hirvonen was the course car in his works WRC Ford Focus. In the same year Mads Ostberg took the overall win in a WRC Subaru. Mikko Hirvonen also won the Cambrian back in 2000, when he was just 20 years old, in his Subaru Impreza WRC . Andreas Mikkelsen won the Cambrian in 2006 when he was just 17years old!!
Now in it's 64th year (its been running since 1955!) the Cambrian is recognised as one of the best rallies in the UK. This was confirmed in 2008 and 2009 when it was crowned 'Best Event' by both the BTRDA and ANWCC. In 2014, again the Cambrian Rally won "Best Rally of 2014" awarded by the BTRDA.
Today the Cambrian Rally is organised by the highly experienced members of the North Wales Car Club (NWCC) and has done since it was formed in 1955. The event offers a real challenge for competitors of all levels, driving through some of the best forest stages, in some of the finest scenery in the UK.
In a recent #TeamCorvus staff survey we asked what our team would like to sponsor and the feedback was mostly in favour of sponsoring a local sporting team.
Our team then voted on a number of local clubs to receive this sponsorship offer;
Penmaenmawr Phoenix FC
Bethesda Rugby Club
Arriva Busses FC
Caernarfon FC
Llangefni Rugby Club
Penrhos Kids FC
Maes y Bryn Kids FC
Results will be in shortly then we will announce who we will be supporting for 2019/2020